Effective Impact
The Effective Impact Tool measures how effectively you are using your buildings. Using measurements of the building and a calendar of monthly events, the tool will provide you with the percentage of usage your building(s) have during a week. This is based on 84 hours of usage, 9 AM through 9 PM, seven days a week for each room in your building. Offices, storage rooms, restrooms, and hallways are considered core space, or common areas, and are factored into the other rooms. Core Spaces are areas in your building(s) that must be utilized to use another room. For example, to use a room in the building, you must walk down a hallway to get there, and occupants will likely require access to a restroom. Staff offices are factored into the core space because they are used throughout the week and generally staff are present when other rooms are being used.
To accurately complete this tool, a detailed floor plan with room-by-room square footage will be needed. You can find measuring firms in your area by Google search or by asking local real estate brokers or appraisers for recommendations. Having a good floor plan of your campus will be beneficial for many reasons including: fire escape plans, leasing, space sharing, operating expense calculations, wayfinding, and of course, Space Utilization. Once completed, this measurement will provide the total square footage of each building, identified by floor, as well as the square footage of each individual room. The measurements should be detailed similarly to the below image.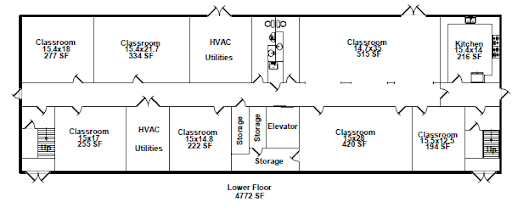 After the measuring is complete, you will need to label each space with the room name/number that corresponds to your church calendar.
Next, pull a monthly calendar of church activities with the duration and location of each scheduled meeting or event. We suggest you use the season of Advent or the month when Holy Week occurs as these tend to be the busiest times in a church. We strongly discourage using any summer months (May-August) as the programming in most churches is greatly reduced.
Using your church calendar and the measurement drawings, compile a list of how many hours each month each room is used and enter the information into the Space Utilization Worksheet.
Once you have all of this data compiled, take the Space Utilization Worksheet and fill out the online form as it will correspond directly to the data you will enter in the tool.
The last item you will need for this tool is the total amount the church spent on Buildings & Grounds from the previous year. This is used to calculate the cost to operate each room in the building on an annual, monthly, and daily basis to assist in setting rental rates or understanding the costs to use a specific building.
As you are entering your data, after each room name/number and hours of use, hit the "ADD" button. It will take a few seconds for the next form to appear, as the page is reloaded to show you the data you have entered on the top of the screen with the new entry form below. Once all rooms and information have been entered, double check for accuracy and errors and then click DONE. If you hit "DONE" before all rooms have been entered, you will not be able to make any corrections.
The result will be a room-by-room breakdown of usage and an associated EFFECTIVE IMPACT SCORE with the percentage of use for the campus.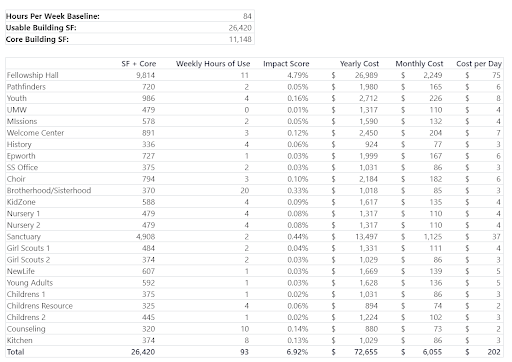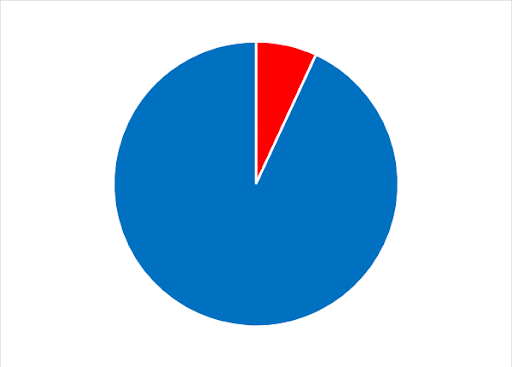 This score can illuminate ways in which the campus can be used more efficiently and impactfully throughout the week.